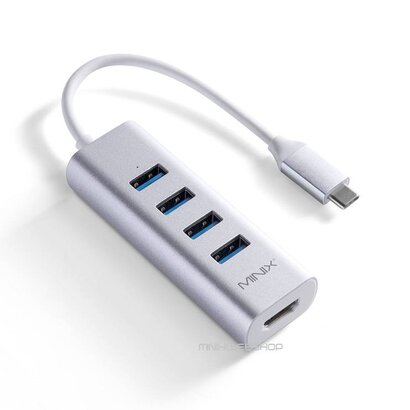 MINIX
NEO C-UH USB-C to 4-Port USB 3.0 and 4K @ 30Hz HDMI Adapter Silver
MINIX NEO C-UH USB-C to 4-Port USB 3.0 and 4K @ 30Hz HDMI Adapter, Silver
Order before 11:45 pm on business days, have it delivered the next day for free! Delivery on Saturday is possible! ...
More information
Product description
Brand:

MINIX

EAN:

4897016417511

Article number:

MINIX NEO C-UH USB-C to 4-Port USB 3.0 and 4K @ 30Hz HDMI Adapter, Silver

Availability:

In stock

Main Featues of the MINIX C-UH

An Abundance of Connectivity.

Our USB-C to 4-Port USB #.0 and 4K @ 30Hz HDMI adapter adds an abundance of connectivity options to your USB-C equipped device, turning one USB-C into 4 x USB 3.0 and 4K @ 30Hz HDMI port.
Stuning Visual Experience.

Supporting up to 4K @ 30Hz, the adapter delivers a stunning visual experience with crystal clear picture quality and vibrant multi-channel digital surround sound; perfect for streaming movies or watching videos from your USB-C equipped device on an external display.
Super-Speed Data Transfer.

The 4 x USB 3.0 ports can reach data transfer speeds up to 5Gbps, supporting the most demanding data transfer needs.
It's plug-and-play design means the adapter connect seamlessly to your USB-C equipped device with no driver installation required.
Sleek, Minimalist Design.

With its sleek,minimalist design premium aluminium housing, the adapter perfectly complements your USB-C equipped device.
Designed to work with the latest generation of computer and smart devices that have USB-C ports, the adapter offers universal compatibility; supporting Windows, Mac and Chrome OS. It's also backwards compatible with 10/100Mbps wired connection, and USB 2.0 and 1.1 devices.