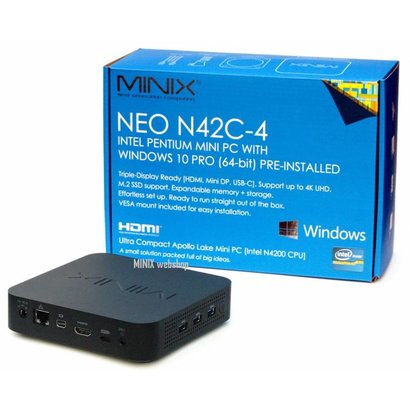 MINIX
NEO N42C-4 Intel Pentium Mini PC, 4GB/32GB, USB-C Port
MINIX NEO N42C-4 Intel Pentium Mini PC, USB-C Port, 4GB/32GB
Availability:

Out of stock
Order before 11:45 pm on business days, have it delivered the next day for free! Delivery on Saturday is possible. ...
More information
Product description
Brand:

MINIX

EAN:

4897016417337

Article number:

MINIX NEO N42C-4 Intel Pentium Mini PC, USB-C Port, 4GB/32GB

Availability:

Out of stock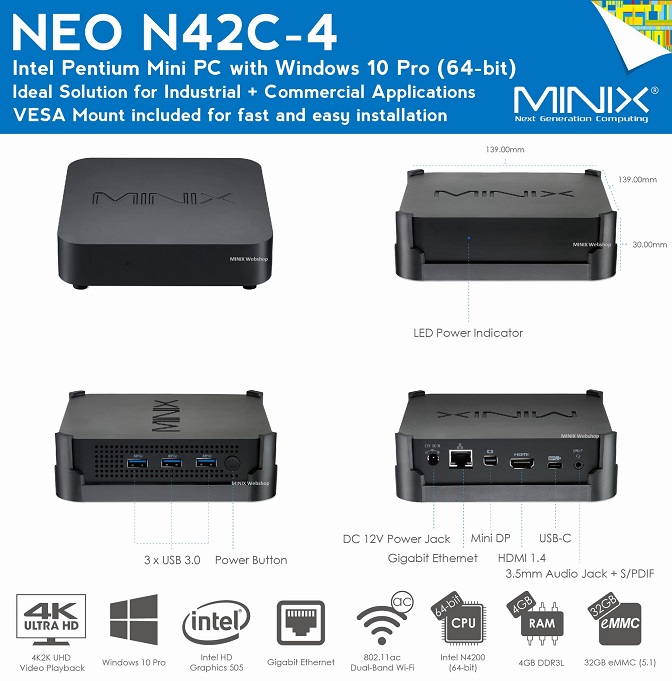 Fully Functional, Customisable Mini PC with Windows 10 Pro (64-bit) Pre-installed

MINIX NEO N42-C delivers all the power and functionality of a desktop computer in a compact, stylish chassis.

Powered by Intel N4200 processor with integrated Intel HD Graphics 505, NEO N42C-4 is ideal for industrial and commercial applications; Digital Signage, POS and thin Client solution.

Its sleek and understated design allows for easy integration in any places with limited space, while still achieving premium, ultra-responsive performance and the power to fulfil your productivity needs.

Pre-installed with Windows 10 Pro (64-bit), set up is effortless and MINIX NEO N42C-4 is ready to run straight out of the box.

Ultra-High Definition 4K @ 60Hz & Triple-Display Ready

Thanks to its Intel HD Graphics GPU engine, NEO N42C-4 excels at producing super detailed, crystal-clear 4K @ 60Hz imagery; capable of streaming Ultra-High Definition vibrant visuals smoothly.

MINIX NEO N42C-4 is Triple-Display Ready, allowing easy connection for up to three displays with the HDMI, Mini DisplayPort and USB-C outputs. (Important Note: the integrated USB-C port only supports video output, not audio output).

Expandable, flexible Design.

MINIX NEO N42C-4 comes with 32GB eMMC internal storage and 4GB of DDR3L, while the inclusion of a 2280 M.2 slot (SATA 6.0 Gbps) and a pair of SODIMM slots (dual channel support) offfer the flexibility to expand the storage and RAM to meet user's requirements.

The 2280 M.2 slot (SATA 6.0 Gbps) provides storage expansion up to 512GB, and the pair of SODIMM slots support up to 8GB of DDR3L memory each.

Packed with Connectivity; Integrated USB-C Port.


MINIX NEO N42C-4 is equipped with a vast array of connectivity options: Three USB 3.0 Ports, HDMI (4K @ 30Hz), Mini DisplayPort (4K @ 60Hz), USB-C (4K @ 60Hz), optical S/PDIF, 3,5mm Audio Jack, 802.11ac Dual-Band Wi-Fi, Gigabit Ethernet and Bluetooth 4.1. (important Note: An Active adapter is required to convert Mini DisplayPort output to HDMI/DVI output).

The integrated USB-C port supports ultra-fast data transfer, video display output up to 4K @ 60Hz and simultaneous power input. (Important Note: USB-C power input is optional, standard DC 12V, 3A power adapter included)

Minimal Noise, Zero Disturbance.

MINIX NEO N42C-4 employs an active cooling solution to ensure safe operation and stable performance even troughout prolonged operation, while producing absolute minimal noise to gurantee zero distrurbance during usage.

The chassis also incorporates clevery disigned ventilation and air holes to maximize airflow, and maintain appropriate temperature to safeguard againt over-heating.

Business Friendly Features.

Built in accordance to industrial standards, NEO N42C-4 is highly reliable throughout periods of continuous 24/7 operation. An auto power=on option can be enabled whitin the BIOS menu settings, removing the need to manually power back on after a power outage.

MINIX NEO N42C-4 includes a VESA mount for easy installation on the back of a VESA compatible TV or monitor, no tools are required for mounting once the included bracket has been installed.

the VESA mount gives full acces to all ports and power button, and does not affect the Wi-Fi or Bluetooth performance; eliminating the cable clutter of a traditional office setup.
Spec MINIX NEO N42C-4:
Intel Pentium N4200
Intel HD Graphics 505
4GB DDR3L (upgradeable to 8GB)
2x SODIMM slot, dual channel support
32GB eMMC 5.1 (MLC)
1x 2280 M.2 slot (SATA 6bps)
802.11ac Dual-Band WiFi
Gigabit Ethernet
Bluetooth 4.1
USB 3.0 port 3x, USB-C port 1x
Mini DisplayPort (4K @ 60Hz)
HDMI 1.4 (4K @ 30Hz), USB-C (4K @ 60Hz)
Windows 10 Pro (64bit)
MINIX NEO N42C-4 includes 1x2280 M.2 slot, maximum support 512GB. 
Below is a list of M.2 SSD that we've tested and verify to be compatible with NEO N42C-4.

Samsung MZ-N5E120 120GB
Samsung MZ-NTY1280 128GB
Samsung 850 EVO 500GB
SanDisk SD7SN6S 128GB
SanDisk SD8SN8U 256GB
SanDisk SD8SN8U 512GB
Intel SSDSCKHW120A4 120GB
Lenovo GXB0M41970 128GB
Kingston SM2280S3G2 120GB
Kingston SM2280S3G2 240GB
Kingston SM2280S3G2 480GB

MINIX NEO N42C-4 includes 2xSODIMM slot (dual channel), maximum support 8GB + 8GB.
Below is a list of DDR3L Memory that we've tested and verify to be compatible with NEO N42C
Kingston BKMH0871451 4GB
Kingston BPMK16A1447 8GB
Reviews