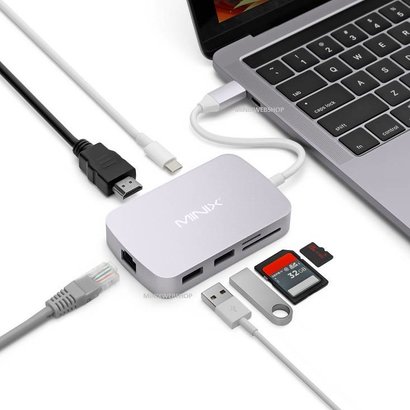 MINIX
NEO C-X, USB-C Multiport Adapter [10/100Mbps Ethernet]
MINIX NEO USB-C X Zilver
Availability:

Out of stock
Order before 11:45 pm on business days, have it delivered the next day for free! Delivery on Saturday is possible! ...
More information
Product description
Brand:

MINIX

EAN:

4897016415999

Article number:

MINIX NEO USB-C X Zilver

Availability:

Out of stock
MINIX NEO C-X, USB-C Multiport Adapter with HDMI output is one of the world's most advanced USB-C adapters, delivering an array of connectivity options and ensuring the MacBook is backwards compatible with all your USB accessories.
Our USB-C Multiport Adapter with HDMI output lets you connect your MacBook to an HDMI display (support up to 3840x2160 at 30Hz), while simultaneously being connected to the internet via the Ethernet port.
Plus, the adapter also features 2 x standard USB 3.0 ports, TF and SD card readers and USB-C port, so you can keep charging your MacBook while using the adapter.
Available in four colours: Space Gray, Silver, Gold,
NEO CX USB-C with HDMI-poort:

2 x USB 3.0 Type-A-poorten
USB Type C-Port (voor het opladen)