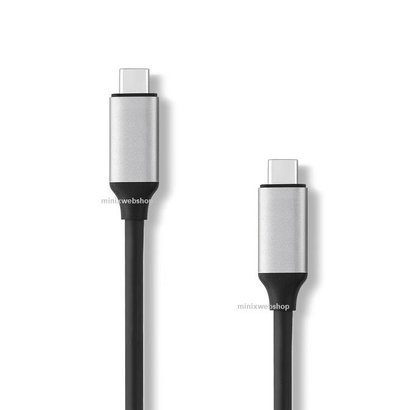 MINIX
NEO C-MUC USB-C to USB-C Cable ( 120cm)
MINIX NEO USB-C to USB-C Cable, 120cm, Black
Availability:

Out of stock
Order before 11:45 pm on business days, have it delivered the next day for free! Delivery on Saturday is possible! ...
More information
Product description
Brand:

MINIX

EAN:

4897016416682

Article number:

MINIX NEO USB-C to USB-C Cable, 120cm, Black

Availability:

Out of stock


Main Featues of the NEO C-MUC

Whole New Level of Connectivity

Our USB-C to USB-C cable is an all-in-one cable that supports data transfer, power and display output.
Designed with reversible USB-C connectors on both ends, you can simply plug the cable into your USB-C equipped device in any directon. Sharing content has never been easier.
Incredible Video Resolution.

Enjoy stunning clarity and sound with Ultra 4K @60Hz display output; producing a clean, crisp picture from your USB-C equipped device to external display
The Ultimate smart, high-speed cable; reach incredible data transfer speeds up to 10Gbps, up to 20x faster than USB 2.0 (480Mbps) and 2x faster than USB 3.0 (%Gbps).
Fast and Reliable Charging

With up to 4.5A of power output, the cable quickly and safely charges your USB-C equipped device. Simply plug the other end into a USB-C wall charger.
Delivering on both untility and style, the cable is designed to withstand every day wear and tear, built with premium quality materials for enhanced durability.
the cable offers universal compatibility; supporting Windows, mac and Chrome OS, making it the ideal solution for connecting all your USB-C peripherals.