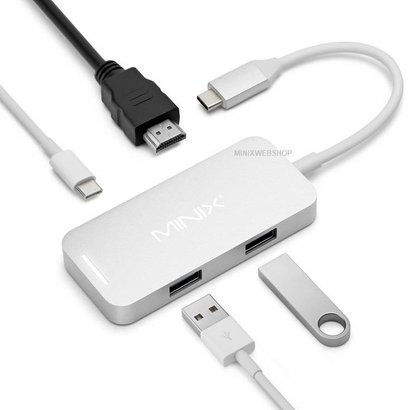 MINIX
NEO C MINI USB-C Multi-Port Adapter with HDMI
NEO C MINI USB-C Multiport Adapter - Kleur: Space Grey -
Availability:

Out of stock
Order before 11:45 pm on business days, have it delivered the next day for free! Delivery on Saturday is possible! ...
More information
Product description
Brand:

MINIX

EAN:

4897016415654

Article number:

NEO C MINI USB-C Multiport Adapter - Kleur: Space Grey -

Availability:

Out of stock
NEO C Mini, USB-C Multiport Adapter with HDMI output
-----
Unlock the full potential of your Apple MacBook
MINIX NEO C Mini, USB-C Multiport Adapter lets you connect your MacBook/MacBook Pro with USB-C port to an HDMI display, while also connecting two standard USB devices and a USB-C charging cable.
4K UHD @ 30Hz
Simply connect the adapter to the USB-C port on your MacBook and then to your HDMI-enabled TV or monitor – support up to UHD (3840x2160) at 30Hz.
Rapid Transfer Speeds
Use the two standard USB 3.0 ports to connect devices such as your external hard drive, mouse or keyboard. Offering data transfer speeds up to 5Gbps, you can transfer content from an external HDD to your MacBook in a matter of seconds.
USB-C Power Delivery
You can also connect a charging cable to the USB-C port to charge your MacBook while using the adapter – highly recommended when using multiple ports simultaneously.
Drivers Apple OS:  http://www.asix.com.tw/download.php?sub=driverdetail&PItemID=131
Reviews