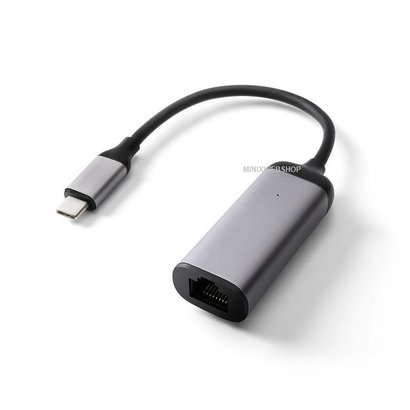 MINIX
NEO C-E USB-C to Gigabit Ethernet Adapter Space Gray
MINIX NEO USB-C to Gigabit Ethernet Adapter, Space Gray
Order before 11:45 pm on business days, have it delivered the next day for free! Delivery on Saturday is possible! ...
More information
Product description
Brand:

MINIX

EAN:

4897016416606

Article number:

MINIX NEO USB-C to Gigabit Ethernet Adapter, Space Gray

Availability:

In stock


Main Featues of MINIX NEO C-E

Instantly Connect to a Wired Network via USB-C

Our USB-C to Gigabit Ethernet adapter provides direct access to super-fast wired network connections, supporting high bandwidth up to 1000Mbps.
Enjoh Speed and Reliability.

Delivering both speed and reliability, the adapter provides faster data transfer and better security than most wireless connections; perfect for streaming movies, online gaming and web browsing.
Comprising of the highest-quality materials, the adapter is designed in accordance to our stringent standards and built to withstand every day wear and tear.
It's plug-and-play design means the adapter connects seamlessly to your USB-C equipped device with no driver installation required.
The adapter offers universal compatibility; supporting Windows, Mac and Chrome OS. It's also backwards compatible with 10/100Mbps wired connections.