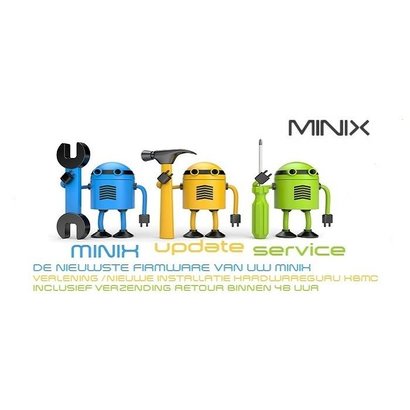 Hardwareguru
MINIX Update Service (MUS)
Availability:

Out of stock
Ordered before 23:45 on weekdays, delivered home free of charge to you within 48 hours of receipt in Zwolle! Also delivery on Saturday! ...
More information
Product description
MINIX UPDATE SERVICE
2. Fill in the form completely.
3. Put your MINIX in a sturdy box and close the MINIX Udate Service form.
4. Send MINIX to: Smart Import Solutions address is on MINIX Service form.
Smart Import Solutios
dept. Update service
Plattenborgstraat 20
8043 TT Zwolle
NB: close the form with your MINIX
What do you get at the MINIX Update Service?
We install the latest firmware for your MINIX with the FOTA
We install / the latest MINIX * Kodi / XBMC edition.
We will return the MINIX Up To Date to you within 48 hours.
* Please note: Due to the new legislation we do not sell for installed MINIX media players, the MINIX media players are equipped with a bare Kodi without addons and therefore are not in violation of the law as Stichting Brein writes in its judgment of 26 April 2017.

Please note, for some apps, Netflix, Videoland, etc, you have to sign up for a subscription.
MINIX NEO U1 and the MINIX NEO X8-H Plus / NEO X6 running on Android 5.1 will no longer be able to use the Ziggo Go app. !